"A smart, unconventional book that takes readers far beyond what they think they know about a complex subject, Wasted is filled with surprising insights, careful analysis, and fascinating factoids. There's something on every page for those who want to know more about science, business, and human behavior, all shown through the lens of, well . . . waste. This book isn't just for geeks—but geeks of all stripes will love it."— Kari Byron, former cast member of MythBusters
​WASTED
How We Squander Time, Money, and Natural Resources and What We Can Do About It
We live in a world full of waste in many forms, from fast fashion to wasted time and potential. Yet when most people think of waste, they only think of the tangible, like plastic straws and garbage strewn across sidewalks. In WASTED (6/1/2021), Byron Reese and Scott Hoffman provide an insightful exploration of a ubiquitous issue, and encourage readers to think more critically about waste in all of its manifestations—seen and unseen—and how to reduce it to improve our cultural, economic, and environmental wellbeing.
WASTED is a fascinating series of extensively researched—and often counterintuitive—pieces on waste in our lives. It affects the Earth we live on, the businesses we run, the products we buy, and the lives we live. Reese and Hoffman delve deep into the ways science, businesses, and human behavior create different forms of waste, and how a deeper understanding can lead us toward a world with far less waste—or no waste at all. Along the way, they raise questions from the quotidian to the abstract including.
Do humans really inhale or consume an average of 100,000 pieces of plastic per year?
How are the Dutch able to grow tomatoes with 19% of the water and 3% of the chemicals used in US agricultural production?
Why is it 80 percent of donated clothes end up in landfills and the apparel industry's emissions are roughly triple that of the entire aviation industry?
Could global hunger be completely eliminated for the annual cost of about a hundred $100 billion dollars, a sum just under what we collectively spend on pet food? Yes it could.
Ultimately, the question of reducing waste is philosophical and complex. While Reese and Hoffman don't promise easy answers or shame readers into thinking a perfectly waste-free lifestyle is possible, they promise to help readers understand the questions at play and give actionable steps where they can. As the authors decipher issues they simultaneously provide insights into solutions – mostly technology-driven – that could potentially drive down waste as well. A powerful and compelling thought experiment, WASTED will educate and inspire environmentalists, scientists, business leaders, technologists, and consumers alike.
A Message in a Bottle – Byron on Writing
"The best thing to me about writing is that my message goes out into the world, and I have no idea who will see it. It goes to people I could live a hundred lifetimes and never pass on the street.
About every other day, I get a note from someone who read something I wrote, or saw a video I was in, or attended one of my talks, and such great things have come out of them. For instance, I had the great opportunity to work with a museum on an exhibit about the future. A person hearing one of my speeches made an introduction for me, and I ended up as a dinner guest at our then Vice President's home. On another occasion, something I wrote led to an amazing visit to Mount Athos in Greece where over a thousand monks live in monasteries the same way they did 500 years ago.
One day, I received a phone call from an unknown international number, and it was Mexico's prior president, Vicente Fox, who had discovered Infinite Progress while browsing the Kindle store. He told me he loved the book and invited me to stay at his home and teach at his presidential library. That was an amazing trip where, among other things, my meager chessplaying skills were compared favorably to Fidel Castro's by a man who played against him. And so, I keep writing, sending out messages in bottles."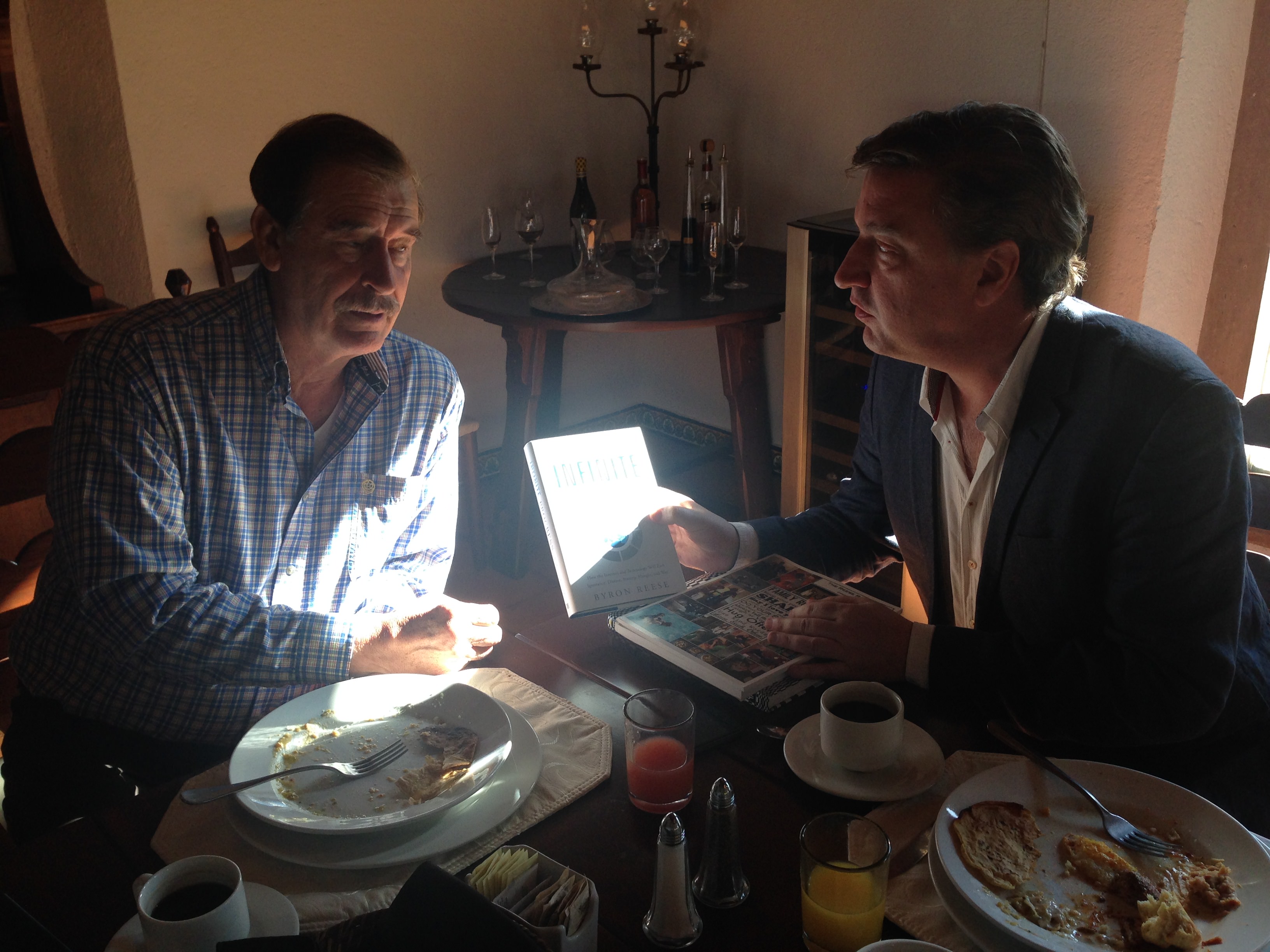 Byron visiting with the former President of Mexico, Vicente Fox.
Deep Dive Into AI: Explainable Artificial Intelligence
Deep Dive Into AI: Limits of AI
National Geographic
"How We Will Age Within 20 Years" by Byron Reese
Korn Ferry Institute Report - "Artificial Intelligence: Competitor or Partner"
A World of Inspiration
"A World of Inspiration," by Byron Reese