Stories, Dice, and Rocks That Think
Stories, Dice, and Rocks That Think: How Humans Learned to See the Future — and Shape it.
This fascinating tale explores the three leaps in our history that made us who we are—and will change how you think about our future.
Look around. Clearly, we humans are radically different from the other creatures on this planet. But why? Where are the Bronze Age beavers? The Iron Age iguanas? In Stories, Dice, and Rocks That Think (Aug. 16, 2022 / Benbella Books), Byron Reese argues that we owe our special status to our ability to imagine the future and recall the past, escaping the perpetual present that all other living creatures are trapped in.
Envisioning human history as the development of a societal superorganism he names Agora, Reese  shows us how this escape enabled us to share knowledge on an unprecedented scale, to predict—and eventually master—the future.
Thoughtful, witty, and compulsively readable, Reese unravels our history as an intelligent species  in three acts:
Act I:  Ancient humans undergo "the awakening," developing the cognitive ability to mentally time-travel using language
Act II:  In 17th century France, the mathematical framework known as 'probability theory' is born—a science for seeing into the future that we used to build the modern world
Act III: Beginning with the invention of the computer chip, humanity creates machines to gaze into the future with even more precision, overcoming  the limits of our brains
A fresh new look at the history and destiny of humanity, readers will come away from Stories, Dice, and Rocks that Think with a new understanding of what they are—not just another animal, but  a creature with a mastery of time itself.
Purchase Options
"STORIES, DICE, AND ROCKS THAT THINK" Out Now.
A Message in a Bottle – Byron on Writing
"The best thing to me about writing is that my message goes out into the world, and I have no idea who will see it. It goes to people I could live a hundred lifetimes and never pass on the street.
About every other day, I get a note from someone who read something I wrote, or saw a video I was in, or attended one of my talks, and such great things have come out of them. For instance, I had the great opportunity to work with a museum on an exhibit about the future. A person hearing one of my speeches made an introduction for me, and I ended up as a dinner guest at our then Vice President's home. On another occasion, something I wrote led to an amazing visit to Mount Athos in Greece where over a thousand monks live in monasteries the same way they did 500 years ago.
One day, I received a phone call from an unknown international number, and it was Mexico's prior president, Vicente Fox, who had discovered Infinite Progress while browsing the Kindle store. He told me he loved the book and invited me to stay at his home and teach at his presidential library. That was an amazing trip where, among other things, my meager chessplaying skills were compared favorably to Fidel Castro's by a man who played against him. And so, I keep writing, sending out messages in bottles."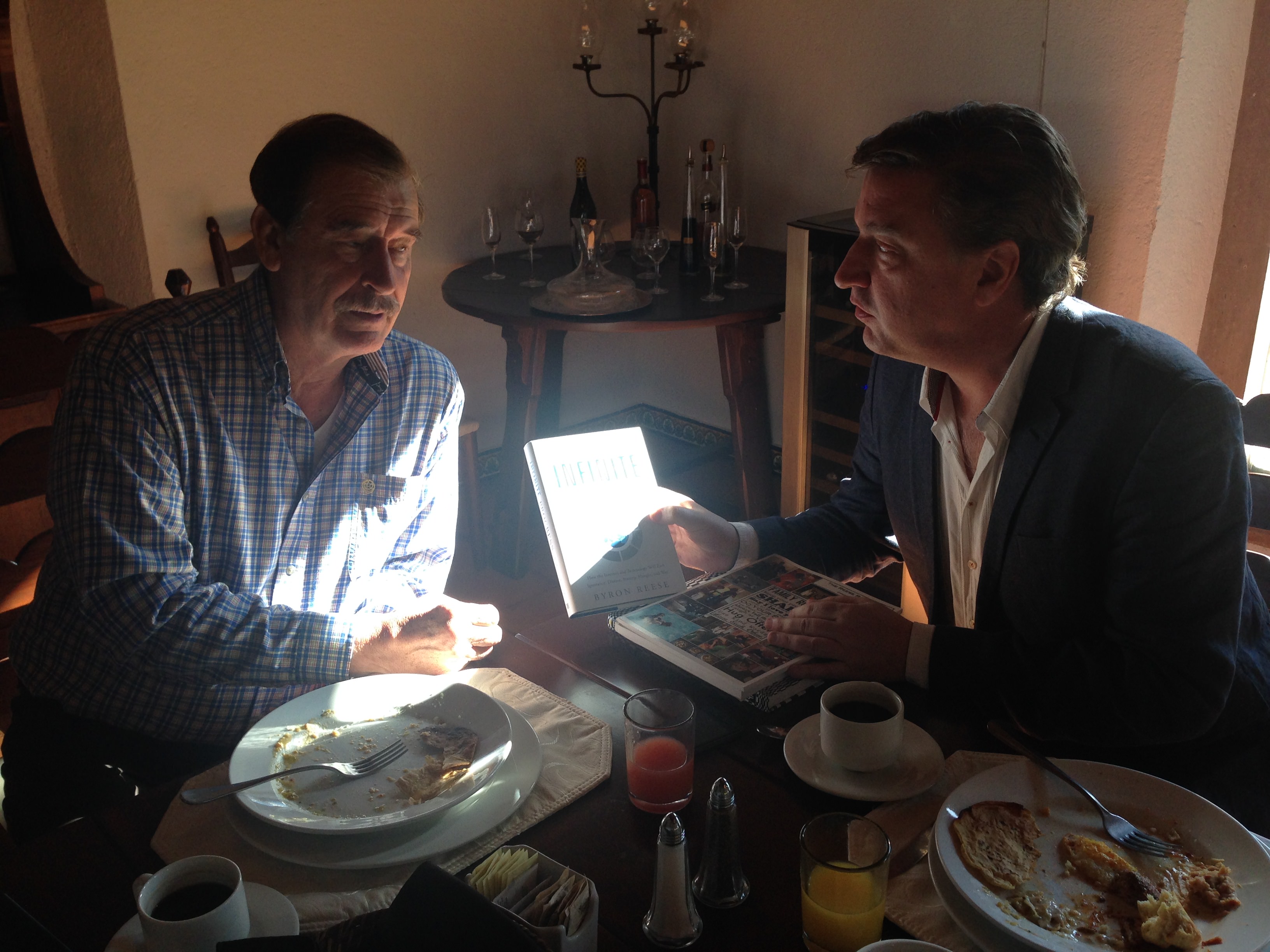 Byron visiting with the former President of Mexico, Vicente Fox.
Deep Dive Into AI: Explainable Artificial Intelligence
Deep Dive Into AI: Limits of AI
National Geographic
"How We Will Age Within 20 Years" by Byron Reese
Korn Ferry Institute Report - "Artificial Intelligence: Competitor or Partner"
A World of Inspiration
"A World of Inspiration," by Byron Reese