Infinite Progress
How the Internet and Technology Will End Ignorance, Disease, Poverty, Hunger, and War
Gloom-and-doom pessimists have it all wrong. This objective look at the trajectory of history, technology, and civilization shows that we are about to enter a great new epoch of human existence, a golden age like we have never seen; a world free of ignorance, disease, poverty, hunger, and war.
With the art of a storyteller, Byron synthesizes history, technology, and sociology into an exciting, fast-moving narrative showing how new technology has had dramatic effects on humanity in the past. He then looks forward at the technological changes we know are coming–from genetics, nanotechnology, robotics, and many other fields–and explores how they will vastly increase wealth, prolong our lifespans, redefine human rights, and alter the social fabric of the world.
With a rational and researched optimism, Byron sees the future not as a world in a downward spiral, but as destined for progress beyond our imaginations.
Purchase Options
Special 99 Cent eBook Offer Available through Major Retailers
"Infinite Progress," is available in print and electronic formats at all major book-sellers. The eBook version is currently available for 99 cents. For an autographed printed copy, shipping included, order directly from Byron.
A Message in a Bottle – Byron on Writing
"The best thing to me about writing is that my message goes out into the world, and I have no idea who will see it. It goes to people I could live a hundred lifetimes and never pass on the street.
About every other day, I get a note from someone who read something I wrote, or saw a video I was in, or attended one of my talks, and such great things have come out of them. For instance, I had the great opportunity to work with a museum on an exhibit about the future. A person hearing one of my speeches made an introduction for me, and I ended up as a dinner guest at our then Vice President's home. On another occasion, something I wrote led to an amazing visit to Mount Athos in Greece where over a thousand monks live in monasteries the same way they did 500 years ago.
One day, I received a phone call from an unknown international number, and it was Mexico's prior president, Vicente Fox, who had discovered Infinite Progress while browsing the Kindle store. He told me he loved the book and invited me to stay at his home and teach at his presidential library. That was an amazing trip where, among other things, my meager chessplaying skills were compared favorably to Fidel Castro's by a man who played against him. And so, I keep writing, sending out messages in bottles."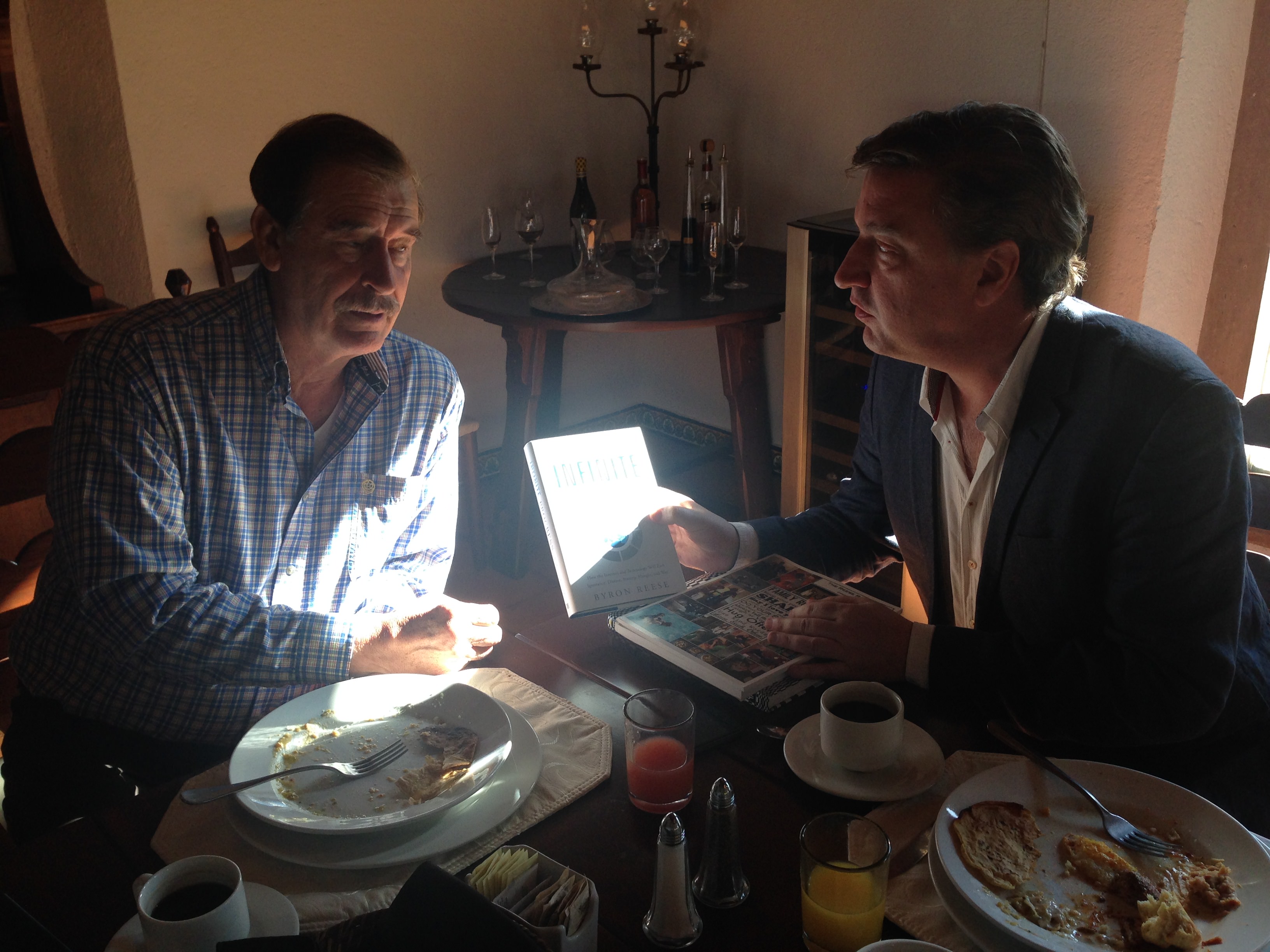 Byron visiting with the former President of Mexico, Vicente Fox.
Deep Dive Into AI: Explainable Artificial Intelligence
Deep Dive Into AI: Limits of AI
National Geographic
"How We Will Age Within 20 Years" by Byron Reese
Korn Ferry Institute Report - "Artificial Intelligence: Competitor or Partner"
A World of Inspiration
"A World of Inspiration," by Byron Reese