An Author with a Message
Byron's latest book, "The Fourth Age: Smart Robots, Conscious Computers, and the Future of Humanity" was released by Atria, an imprint of Simon & Schuster, on April 24, 2018. He is also the author of the award-winning "Infinite Progress: How Technology and the Internet Will End Ignorance, Disease, Hunger, Poverty, and War."
Byron brings his experience as a futurist, technologist, and entrepreneur, his passion for history, and his proven business acumen to illuminate how today's technology can solve many of our biggest global challenges.
"Technology is empowering. It augments us. And yet today, many are being told they should fear technology. In my writing, I reject that and offer a different narrative, of how technology can bring about a peaceful and prosperous world for all." – Byron Reese
A Message in a Bottle – Byron on Writing
"The best thing to me about writing is that my message goes out into the world, and I have no idea who will see it. It goes to people I could live a hundred lifetimes and never pass on the street.
About every other day, I get a note from someone who read something I wrote, or saw a video I was in, or attended one of my talks, and such great things have come out of them. For instance, I had the great opportunity to work with a museum on an exhibit about the future. A person hearing one of my speeches made an introduction for me, and I ended up as a dinner guest at our then Vice President's home. On another occasion, something I wrote led to an amazing visit to Mount Athos in Greece where over a thousand monks live in monasteries the same way they did 500 years ago.
One day, I received a phone call from an unknown international number, and it was Mexico's prior president, Vicente Fox, who had discovered Infinite Progress while browsing the Kindle store. He told me he loved the book and invited me to stay at his home and teach at his presidential library. That was an amazing trip where, among other things, my meager chessplaying skills were compared favorably to Fidel Castro's by a man who played against him. And so, I keep writing, sending out messages in bottles."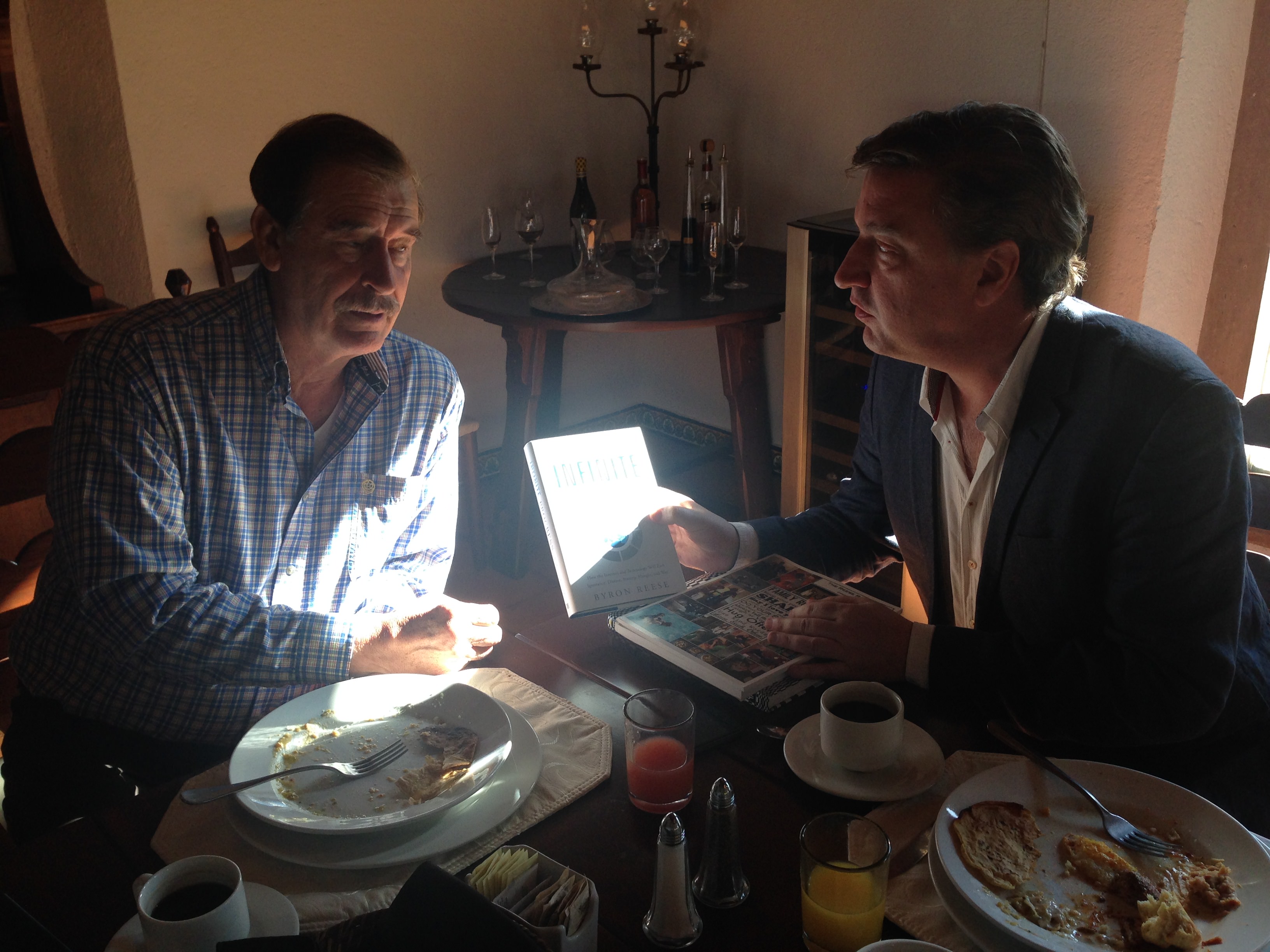 Byron visiting with the former President of Mexico, Vicente Fox.
Deep Dive Into AI: Explainable Artificial Intelligence
Deep Dive Into AI: Limits of AI
National Geographic
"How We Will Age Within 20 Years" by Byron Reese
Korn Ferry Institute Report - "Artificial Intelligence: Competitor or Partner"
A World of Inspiration
"A World of Inspiration," by Byron Reese